Icetank had an 'a- mayonnaising' evening on Wednesday 28th September for the #heinzseriouslygood mayonnaise campaign party. This was to celebrate the new and improved sauce; it contains free range eggs and absolutely no added colours, flavours, preservatives or artificial thickeners. The launch of this mayonnaise was said to be the biggest launch from Heinz in 2016. Heinz spent 18 months with 5,000 consumers to ensure the new mayonnaise was the best on the market.
Our well-loved supplier Fisher Productions in partnership with Icetank helped bring the event to life. Heinz blue lighting projected throughout the venue and their show reel played on our infinity cove. If that wasn't enough, a giant blow-up Mayonnaise jar sat in the studio giving this high end event a fun finish.
This launch party was different from the norm because food bloggers and food fans were at the centre of the campaign;
Heinz [Seriously] Good Mayonnaise launched a nationwide search for the best recipe that included the sauce… the catch? The finalists were judged by only one spoonful. Our friends from Bubble Food recreated the finalist's recipes to be served to the guests, this was of course washed down by champagne.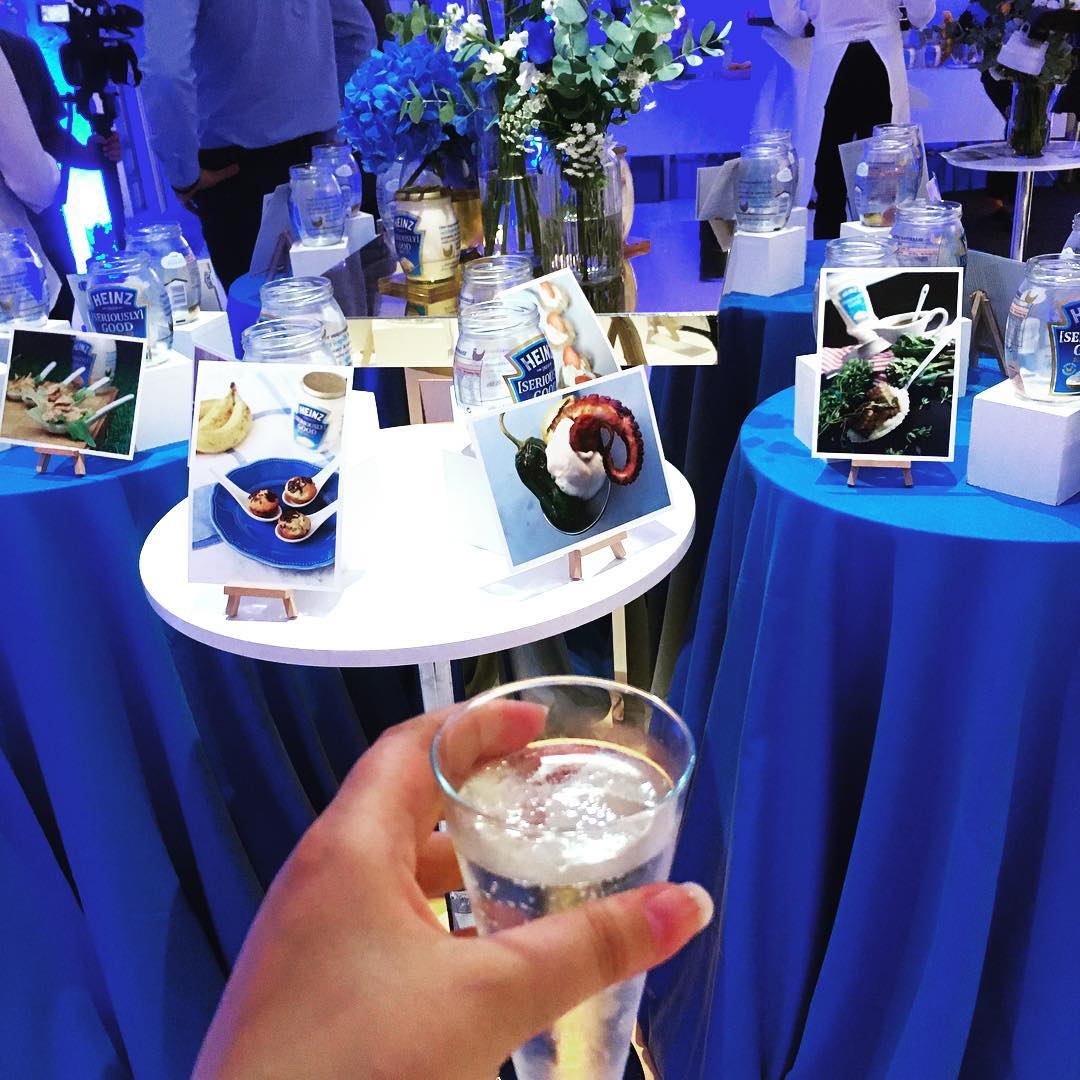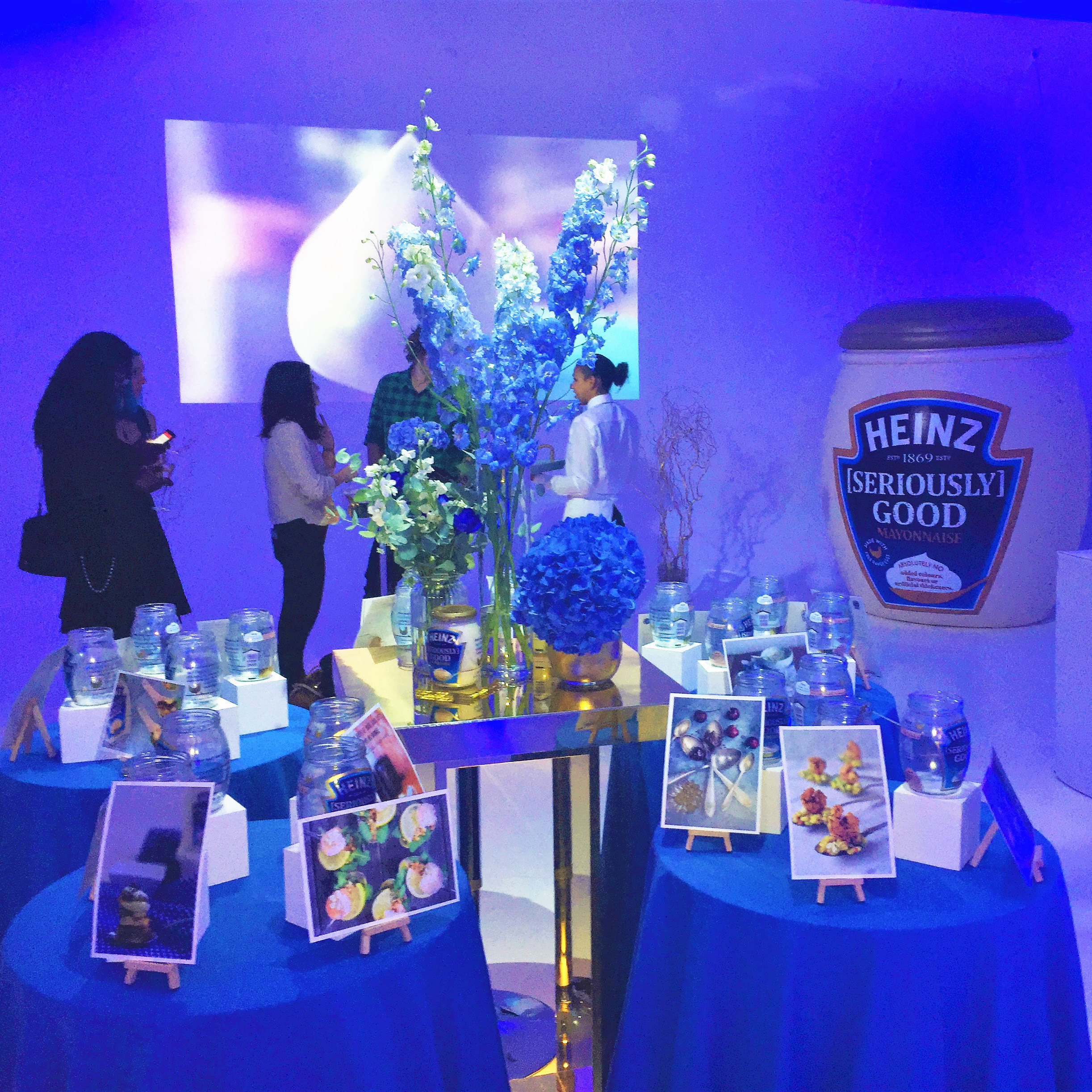 It's safe to say, there were some wacky but extremely creative recipes that were an all-round success, from steak bites to mini blueberry muffins… who would have thought blueberry muffins could be made with mayonnaise? The expert panel to award the winner included Master Chef critic, Willam Sitwell and food stylist and writer, Nicholas Ghirlando.
Judges were given just the one spoonful to taste and it was love at first bite for the 'Crispy Coconut King Prawn & Sweetcorn, Avocado & Feta Salsa Appetizer Spoon' by blogger 'Domestic Gothess', also known as Hannah. Hours of creative thinking and producing paid off as she was awarded a private dinner party for eight friends catered for by food writer, chef and TV presenter Sophie Michell. Hannah also won £500 to spend on drinks to ensure it is the best and easiest dinner party ever! (Jealous).
The evening certainly confirmed to us; it has to be Heinz.
Take a look at the full winning recipe:
Crispy Coconut King Prawn & Sweetcorn, Avocado & Feta Salsa Appetizer Spoons
Author: Domestic Gothess
Makes: 15
Ingredients
Prawns:
15 raw, peeled and de-veined king prawns
2 garlic cloves, crushed
juice of ½ lemon
pinch salt
50g unsweetened desiccated coconut
15g (1/2 a packet) fresh chives, finely chopped
1 large egg, beaten
40g plain flour
vegetable oil for deep frying
Salsa:
200g frozen or tinned sweetcorn, defrosted and drained well
2 tbsp Heinz Seriously Good Mayonnaise
½ a large, ripe but firm avocado
1 red chilli
handful fresh coriander
juice of ½ a small lime
60g feta cheese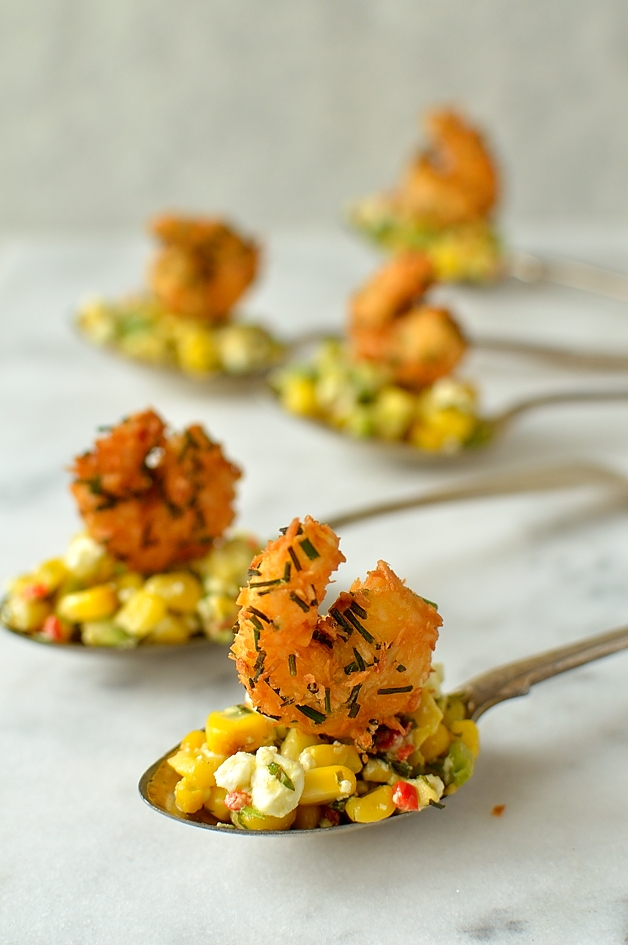 Instructions
Mix together the garlic, lemon juice and salt in a shallow bowl, toss in the prawns and leave to marinate for about an hour.
Meanwhile make the salsa, place the sweetcorn in a bowl and add the mayonnaise. Peel the avocado and cut into very small dice, add to the sweetcorn. De-seed and very finely chop the chilli and very finely chop the coriander, add to the bowl along with the lime juice then finally crumble in the feta, toss everything together and set aside.
For the prawns, toss together the coconut and chives with a pinch of salt in a shallow dish; place the beaten egg in a small bowl and tip the flour into a separate small bowl.
Coat the prawns first in the flour, then the egg, then finally the coconut mixture, making sure that they get a good coating of each.
Pour the vegetable oil into a deep pan to a depth of a couple of inches; heat to about 180C, or until a cube of bread dropped into the oil sizzles and colours in about 30 seconds.
Fry the prawns a few at a time for about a minute, until golden. Remove from the oil with a slotted spoon and drain on kitchen paper.
To serve, place a spoonful of the salsa on each spoon and top with a prawn. Serve immediately.
Do you need a venue for a press launch? Mayo ask you to give Icetank call on 020 7240 4600 or email us at info@icetank.com.